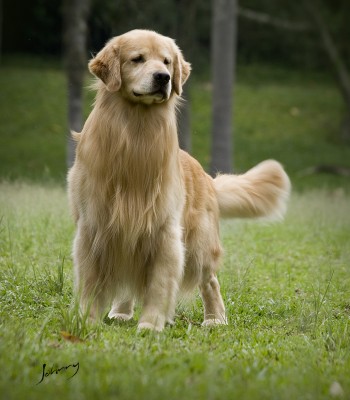 "Graham"
Jackson's Golden Graham
Nascimento: 14-10-2002 – 7-7-2015
Pai-MBIS MBISS.Am/Can/Br CH. Eirene's This One's For You Can SDHF OS-"Wagner"
Mãe-Can CH. Foxylane's Harley At Jackson OD
"Graham" foi o mais doce, carinhoso e paciente cão que tive o prazer de conviver, além de maravilhoso com pelagem exuberante, cabeça linda , cão de fazer o trânsito parar.
"Graham" foi tazido pelo canil Chasse do Canadá juntamente com seu pai, o grande "Wagner".
Somos eternamente agradecidos a Heather Jardine, Jackson's Goldens por ter nos cedido dois cães dessa importância que foram muito importantes na formação dos nossos Goldens, conhecidos por serem cães muito corretos e de temperamento típico de Golden, "maravilhoso"
Informações Genéticas
10-generation COI 11.37
12-generation COI 12.47%
Top 5 ancestors contributing to COI, in order of influence:
Am CH. Faera's Future Classic OS 3.56%
Am. CH. Misty Morn's Sunset CD TD WC OS SDHF 2.05%
Am. CH Goldwing True Bear OS SDHF 1.33%
BISS Am./Can. CH Gold-Rush's Great Teddy Bear OS SDHF 0.70%
Am. CH. Sunset's Happy Duke OS 0.66%
Default Gallery Type Template
This is the default gallery type template, located in:
/home/chasse.com.br/public_html/wp-content/plugins/nextgen-gallery/products/photocrati_nextgen/modules/nextgen_gallery_display/templates/index.php.
If you're seeing this, it's because the gallery type you selected has not provided a template of it's own.
Can/Am CH. Jackson's Golden Graham

MBIS MBISS.Am/Can/Br CH. Eirene's This One's For You Can SDHF OS

Am CH. Laurell's Cause For Applause OS SDHF

Am/Can CH. Freedom's Celebration OS

Am. CH. Laurell's Scarlett O'Beara OD SDHF

Am & BIS Can CH. Eirene's Soul And Inspiration Am Can OD SDHF

Am CH Laurell's Goin' Great Guns OS SDHF

Can. Ch. Brookshire's Jessica Tandy CD Am Can OD

Can CH. Foxylane's Harley At Jackson OD

Am CH. Faera's Future Classic OS

Am CH Asterling's Buster Keaton OS

Am CH Faera's Puppy Kidd OD

Can CH. Jackson Driftwind The Only One OD

MBISS BIS Can CH. Goldenkins Peter The Great CanCD SDHF OS

CanCH Waldenway's Windrift Whitney CanCD WC OD